IT Consulting
Dependable IT Outsourcing and your IT Consultant for businesses like yours in Northern Alabama and Mississippi.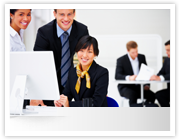 Do You Worry That Your Technology Isn't As Reliable As It Claims To Be? "Why does my technology always seem to be broken when I need it most?!" If you've ever thought that, IT Consulting services can change your outlook.
With Virtual CIO (Chief Information Officer) services from Integration, you get IT Outsourcing services that can make your Northern Alabama and Mississippi business a worry-free environment.
Stress-free IT Consulting strategies from Integration include:
Flat-rate consulting services and solutions, that include your new Technology Setup.
A single point of contact for all of your IT requirements including vendor management such as software vendor (EMR, Accounting, Proprietary), ISP and phone vendor.
Increased efficiency - with IT Planning services that ensure your technology solution is secure and just right for your business requirements.
Comprehensive consulting strategies - IT Installation, trusted vendor products and meticulous planning.
A strong defense system - build a better, more stable business with Technology Administration to ensure your success no matter what.

Our team of professionals can change your outlook on using advanced technology, with expert advice and support.
Integration works as an extension of your business, offering Virtual CIO services to help you get ahead. Serving Huntsville, Decatur, Madison, Athens, Hartselle, Moulton, Cullman, Birmingham, Florence and Muscle Shoals, our IT Consulting Services are the key to a worry-free office environment.
No matter if your business is looking for Virtual CIO (Chief Information Officer) service, IT consulting services, IT outsourcing, computer consultancy, outsourced IT, technical support and IT outsourcing services, network consulting, computer security consultants, or small business server consulting, we've got it all.
Our expert consultants understand how to use IT as a tool to streamline your business. Get more out of your technology with the expert advice of an IT Consultant.
"The move was seamless… practically transparent to our employees…"
"The service that Integration provided to assist us in relocating to our new facility was outstanding. Not only did you provide the physical move and setup of our IT equipment, you also performed pre-move wiring and ...Read More
Eric
---
Areas Covered
We provide a range of Computer Support, Network Services, IT Consulting, Backup Data and Recovery, Vendor Management, Virtualization, Hosted Software, Email and Spam Protection in North Alabama including Huntsville, Decatur, Madison, Athens, Hartselle, Moulton, Cullman, Birmingham, Florence, Muscle Shoals and surrounding areas.