Office Moves
Long-term Office Moving and Office Cable Installation services for developing businesses like yours throughout Northern Alabama and Mississippi.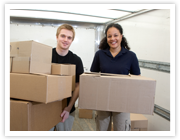 Is Your Current Technology Infrastructure Becoming More And More Outdated? "I want an office cable management plan that can adapt to my ever-changing business." That depends on your office cable management plan.
Integration provides office moving and office cabling services that will give long-term performance, scalability, and reliability to your business in Northern Alabama and Mississippi.
The team of experts from Integration offer office moving solutions that can:
Expand as your business does, by offering office cabling services with scalability for the future.
Provide ROI, with office moving services that won't accrue additional costs.
Prevent lost productivity during your move, by delivering relocation services that won't create costly downtime.

"The service that Integration provided to assist us in relocating to our new facility was outstanding. Not only did you provide the physical move and setup of our IT equipment, you also performed pre-move wiring and cabling to meet our specifications in our new space. The move was seamless and our employees experienced minimal down time. In fact, the move was practically transparent to our employees who reside offsite. The orchestration of moving servers and the re-establishment of email and internet service can be quite complicated. Your guys had us up and running in no time. The servers were taken offline for the physical move on a Thursday afternoon and it was business as usual on Friday morning. We also had the opportunity to migrate equipment from two server racks to one. You assisted in finding potential buyers for viable equipment that was underutilized and in the recycling of outdated hardware we had accumulated over our 10 years in business. A move can be a very hectic process, but with your help the experience was quite pleasant. Thank you for your knowledge and professionalism in making our move a success!"
Eric
When you integrate a scalable cabling solution into your business, you've made a sound investment in IT.
Integration provides the custom network and cabling plan that can evolve with your organization. Serving Huntsville, Decatur, Madison, Athens, Hartselle, Moulton, Cullman, Birmingham, Florence and Muscle Shoals, our technicians can provide you with the office cable management services that will enhance your bottom line.
When you depend on us for strategic solutions like communications cabling solutions, network cabling, structured cabling plans, office moving, office cable management, equipment/server racks, office cabling services, or structured cabling installation, you know you're getting a solution that works for the life of your business.
We're experts in designing and installing structured cabling solutions that can grow and change over time. Our office cabling services and office moving solutions are always created with your long-term success in mind.
---
Areas Covered
We provide a range of Computer Support, Network Services, IT Consulting, Backup Data and Recovery, Vendor Management, Virtualization, Hosted Software, Email and Spam Protection in North Alabama including Huntsville, Decatur, Madison, Athens, Hartselle, Moulton, Cullman, Birmingham, Florence, Muscle Shoals and surrounding areas.